Emotional intelligence skills are key for academic and lifelong success. How? By integrating social emotional learning (SEL) as a central pillar of every school and university. Social emotional learning supports students and educators to develop and practice emotional intelligence skills and a process for teaching, learning, and practicing these skills. Attention to SEL helps everyone in a school setting develop 21st century skills for deepening awareness, choice, and purpose. SEL helps to create a school climate that is a great place to learn.
Six Seconds is a research and practice organization that supports educators who wish to make SEL part of their school environment. We do this by:
Download your free kit to introduce social emotional learning
The kit includes A Case for Emotional Intelligence in Our Schools eBook + slides with instructions for an interactive group session on EQ and SEL
More resources for social emotional learning
EQ: The Foundation for Learning
Schools with successful SEL programs are safe, engaging and well-managed environments where children can focus on learning. Teaching SEL reduces violence and conflict while creating an atmosphere of trust, engagement, and curiosity. Learn more about EQ  
What is Social and Emotional Learning?
Social and emotional learning (SEL) is the process through which children and adults acquire and effectively apply the knowledge, attitudes and skills necessary to understand and manage emotions, set and achieve positive goals, feel and show empathy for others, establish and maintain positive relationships, and make responsible decisions. Learn More about SEL  
How we support evidence-based implementation of emotional intelligence: 
1. Social Emotional Learning Research
Members of Six Seconds' community conduct research on best practices for putting emotional intelligence into action at all levels of education. Please click here for more details and recent articles.
How do educators introduce emotional intelligence and develop a systematic approach to social emotional learning? The Benchmarks for Social Emotional Learning provide a framework for implementation, and a rubric to assess progress and plan next steps.
3. Grants
To encourage research in all sectors, Six Seconds' Grants provide assessments and technical support to projects all around the world.
4. Certification Training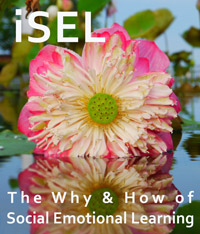 We believe that to effectively implement social emotional learning with students, first the adults need to develop and practice emotional intelligence themselves. Six Seconds' certification training offers in-depth professional development for educators, parents, education faculty, and consultants working in education.
In addition, Six Seconds provides free eLearning and other resources to support social emotional learning, including the rich resource of ISEL, a comprehensive, free eLearning for professional development.
5. Community
While there is growing awareness of the importance of emotional intelligence in education, educators frequently express that they feel isolated as changemakers working to bring this essential ingredient to the forefront of schools. Through web meetings, local events all around the world, and social networks, Six Seconds supports a thriving community of practice.
Visit the EQ Educators and Parents group on Facebook to say hello!